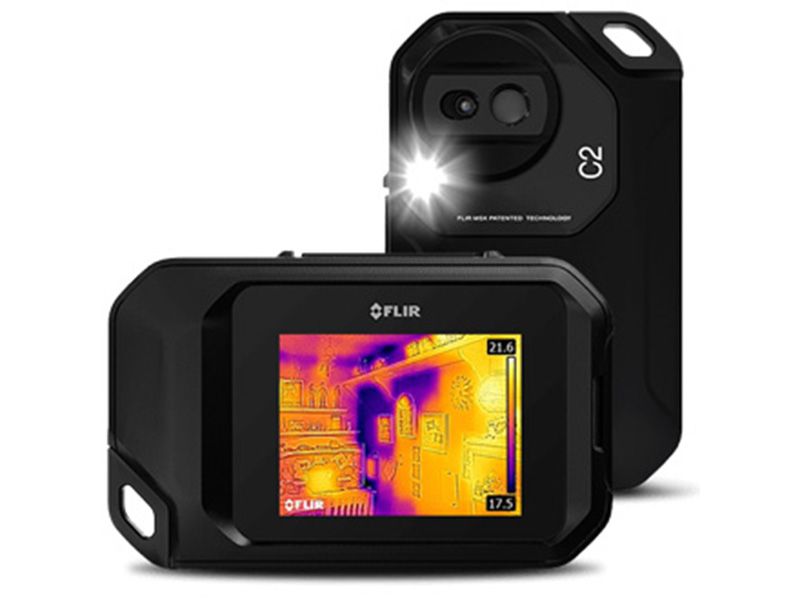 C2 Series
Powerful, Compact Thermal Imaging System
The FLIR C2 is the world's first full-featured, pocket-sized thermal camera
designed for building industry experts and contractors. Keep it on you so
you're ready anytime to find hidden heat patterns that signal energy waste,
structural defects, plumbing issues and more. The C2's must-have features
include MSX® real time image enhancement, high sensitivity, a wide field of
view, and fully radiometric imagery to clearly show where problems are and
verify the completion of repairs.
Pocket Portable.
Keep it on you and at your side, ready for immediate
use so you don't miss an opportunity
• Light, slim profile fits comfortably in any work pocket
• Brilliant 3" intuitive touch screen with auto orientation for easy viewing
• Built-in LED spotlight you can use as a flashlight and for photo illumination
Fully Radiometric.
Save thermal image JPEGs instantly, then conveniently adjust
and analyze them later with FLIR Tools to isolate temperature
measurements on any pixel and create convincing reports
• MSX-enhanced thermal images provide stunning detail to help you identify
problem areas easier
• Radiometric image stores 4800 pixels capable of capturing thermal
measurements from -10°C to 150°C
• A wide FOV frames what pros need to see and high thermal sensitivity
detects subtle temperature differences common in building applications
Easily Affordable.
Sub-$700 MSRP fits everyone's budget to help put this powerful
tool into the hands of more people who can really use it
• FLIR Tools professional reporting software included the industry standard
in thermal image post analysis
• Streaming video via FLIR Tools, a feature not usually available on low-cost
thermal camera systems
• FLIR's unique 2-10 warranty, covering parts and labor for two years and the
detector for ten
FLIR C2; bina, elektrik/mekanik uygulamalar için tasarlanan cep boyutunda dünyanın ilk tam donanımlı termal kamerasıdır.
• HVAC Sorunları
• Enerji, Atık, Yapısal Sorunları
• Sıhhi Tesisat Tıkanma Problemleri
• Gizli Isı Kaçakları'nı
Ve diğer sorunları tespit etme konusunda her an hazır durumdadır.